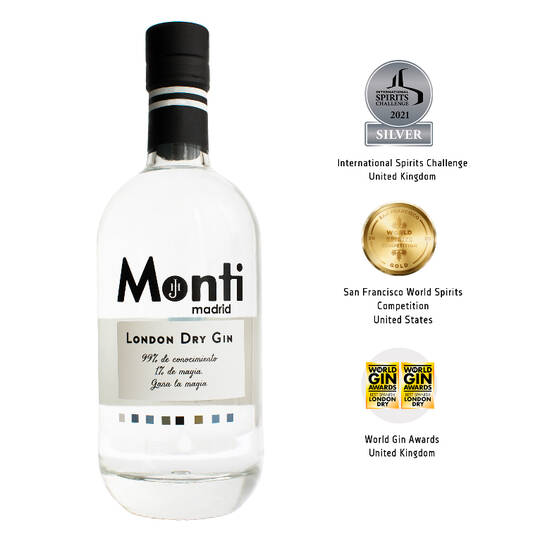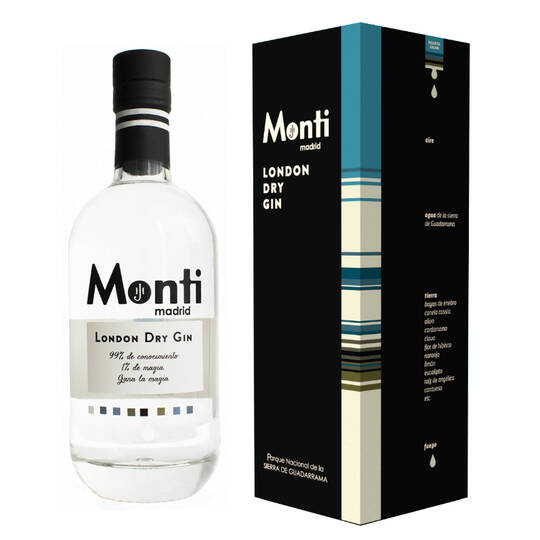 Product description
Gin Monti is a premium and artisanal gin, of the London Dry Gintype, which we elaborate entirely in Los Molinos, a small town in the Sierra de Madrid belonging to the protection zone of the Sierra de Guadarrama National Park.

It is a gin that, among other things, owes its high quality to the care and rigorous control on our part in each elaboration process, and to its limited production in small batches of 100 bottles. Its unique personality is obtained from our recipe, with 15 100% natural botanicals, from the water of the springs of our mountains and from the slow distillation in traditional copper still.

It is a complex gin, full of aromatic nuances, in which alcohol is perfectly integrated and not hot; this is in the background so as not to hide the rest of the aromas. It is a London Gin in which the alcoholic sensation does not predominate. In the mouth it is soft, enveloping and very glyceric; Juniper, citrus fruits and a fine aroma of the field, very herbal, stand out. Gin Monti boasts a Mediterranean spirit provided by some of its botanicals, such as olive leaves, cantueso, lemon, orange or licorice.

PRIZES in the best international competitions:

GOLD Medal, San Francisco World Spirits Competition (US)

SILVER Medal, International Spirits Challenge (UK)

BEST SPANISH LONDON DRY GIN, World Gin Awards (UK), two consecutive years.

BRONZE Medal for Best Gin & Tonic, International Wine & Spirit Competition (UK).
Details
Harmonized commodity:
Industrial sector: