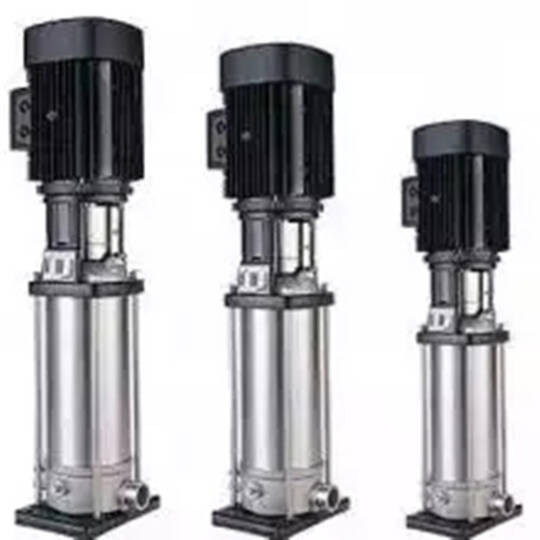 Product description
CDLF/QDLF  stainless steel vertical multistage pipeline centrifugal pump is produced by our company on absorbing the domestic and foreign advanced technology and planning production of the non-self-priming vertical multistage centrifugal pump. The pump is equipped with standard vertical motor and quick installation mechanical seal and replacement is very convenient.
The flow parts of CDLF/QDLF stainless steel vertical multistage centrifugal pump are made of stainless steel (304\316). The pump can be used for mildly corrosive medium. Multi-stage pipeline centrifugal pump can replace foreign CR, CRN equivalent pumps. The pump has a wide range of usage, high efficiency, energy saving, reliable quality etc.
Pumps features:
1. Adopts excellent hydraulic models and advanced manufacturing skills, greatly improved the performance and service life of the pump.
2, because the shaft seal adopts a mechanical seal of hard alloy and fluorine rubber, it can improve the reliability of the pump work and the temperature of the delivery medium.
3, The flow parts of the pump is made of stainless steel plate stamping and welding so that the pump can be applied to mildly corrosive media.
4, the overall compact structure, small size, light weight, low noise and energy saving effect is significant and the pump is easy to repair.
5, the pump inlet and outlet are located in the same level of the pump seat so as that it can be used for pipeline temporary.
6, The pump is equipped with standard motor. The user can choose the local motor according to their demands.
7, CDLF /QDLF vertical stainless steel multistage pipeline pump can be equipped with intelligent protector according to the needs of users so that the pump has the protection of dry rotation, phase loss, overload and other useful protection.
CDLF /QDLF stainless steel multistage centrifugal pump application:
Water supply: water plant filtration and transportation, water plant division water delivery, main pressurization, pressurization of high-rise buildings.
Industrial pressurization: process water system, cleaning system, high-pressure flushing system, fire system.
Industrial liquid transport: cooling and air conditioning systems, boiler feed water and condensing systems, machine tools, acid and alkaline media transport.
Water treatment: ultrafiltration system, reverse osmosis system, distillation system, separator and swimming pool water treatment system.
Irrigation: field irrigation, sprinkler irrigation, drip irrigation.
Conveying medium:
1, thin, clean liquids (the liquids do not contain solid particles or fibers etc), non-flammable and explosive media.
2, such as mineral water, softened water, pure water, oil and other light chemical medium.
Details
Harmonized commodity:
Industrial sector: