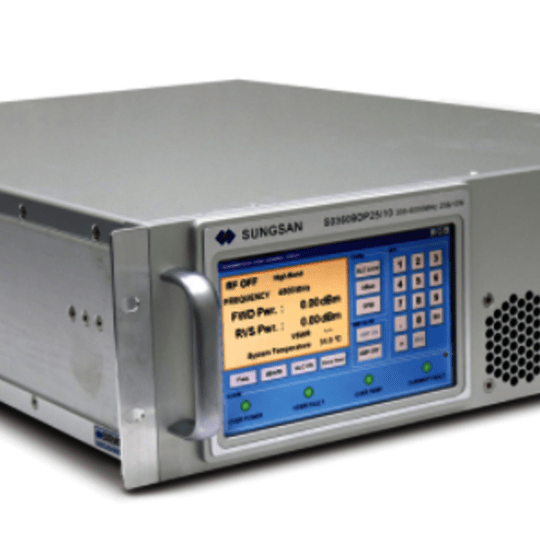 Product description
EMC Test Systems
SUNGSAN's SSPA is a solid-state, self-contained, air-cooled, broadband amplifier designed for applications where instantaneous bandwidth, high gain and linearity are required.
Available in a stylish, contemporary cabinet for benchtop use or with cabinet removed for rack mounting.
The SSPA(SA range), when used with a sweep generator, will provide a minimum of 20 watts to maximum 4000 watts of CW and Pulsed output power at the frequency band from 20 MHz to 12 GHz.
Included is a gain control which permits the operator to conveniently set the desired output level.
The LCD Monitor which is located on the front panel indicates the operate status and fault conditions if the corresponding fault, such as RF input overdrive, over-temperature, over-current and so on has occurred.
All amplifier control functions and status indications are available remotely through the optional Remote Controls - GPIB(IEEE-488), RS-232 and Ethernet(LAN).
The exceptional performance and reliability are assured by ISO 9001.
Details
Country of origin:
South Korea
Industrial sector:
Model:
SA1036 - EMC Test Systems