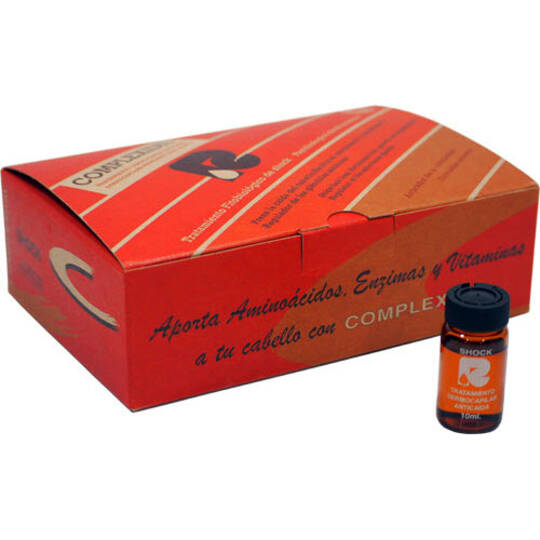 Product description
The Complexidil Shock Ampoules 12×10 ml., is a very effective Phytobiological Dermocapilar Anti-Fall Shock Treatment. It is especially aimed at solving hair loss problems. Bioactive substances with thermal effects (heat-cold sensation) have been added, increasing vascularization and therefore microcirculation. Lack of blood supply is the basic problem of any hair loss.
CHARACTERISTICS
Prevents and regulates hair loss, facilitating its growth and repopulation
It increases microcirculation at the cutaneous level by means of two phytobiological vasodilators, causing the hair follicle to receive more nutrients and therefore, that the hair grows faster and stronger.
Provides substances rich in Amino Acids, Enzymes, Vitamin E, Vitamin B, Vitamin H and Vitamin F
Regulates the sebaceous glands facilitating blood circulation
Its antiseptic properties provide the scalp with a healthy environment that allows the hair fiber to grow faster, thus helping to control oily hair and regulate Ph levels thus preventing it from dehydrating.
It recomposes the matrix of cells, encourages the production of elastin and refreshes the dermis. It increases hydration and incorporates proteins that help in oxygenation.
INDICATED FOR
All types of Alopecia (Hair Loss)
Details
Harmonized commodity:
Industrial sector:
Model:
12 Viales * 10 ml.