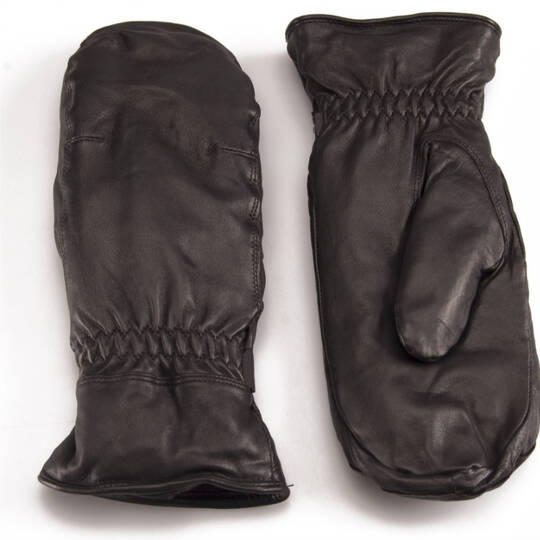 Product description
Gorgeously soft and luxurious, these elegant black leather Ski Mittens are waterproof, warmly insulated and anatomically fitted for skiing comfort. Put the finishing touch to your skiing outfit this season with a pair of Salomon Native Ski Mittens; a near-perfect blend of technical mountain-ready features and captivating faux fur-edged style.
Super-Soft & Supple
A super-soft and supple, fine-grained white leather exterior steeps the Salomon Native Ski Mittens in easy dexterity for natural ski pole grip, durability and luxurious feel. Coupled with waterproof credentials, these attractive ski mittens will maintain warm, dry and comfortable hands, even in heavy snow.
Insulation
Behind the scenes, these white leather ski mitts are warmed Thinsulate insulation. A premium padding for ski gloves, pliable and lofty fibres stow warmed air, keeping heat locked-in and cold shut away. 
Fleece Lining
Ski Mittens have a fleece lining, which slides on easily, and wicks moisture away from skin, keeping hands dry and therefore warmer too. The linings are constructed to provide individual finger pockets for a ski glove-like feel that provides maximum warmth.
Faux-Fur Trim
Ski Mittens help create a successful barrier against cold and snowy weather. The faux-fur-look fleece-lined cuff prevents warmth escaping, as well as bestowing a chic slope-ready aesthetic.
Perfect Your Skiing Outfit
Luxurious cosseting for warm hands in the mountains, the Ski Mittens pair a delightfully supple white leather outer, with technically advanced insulation, ski glove features, and an elegant fur-look fleece trim. The perfect finish to a well-considered skiing outfit, the Salomon Native Ski Mittens will enrich skiing perfectly prepared pistes, on crisp alpine days or fluffy powder under snowy skies.
Fabric:
Fine grain supple leather outer
 insulation
Micro fleece lined
Benefits:
Waterproof
Windproof
Snowproof
Breathable
Warm
Supple
Features:
Short cuff
Velcro cuff adjustment
Anatomical design
Internal finger pockets
Clips to secure together
Women's Ski Gloves
Details
Country of origin:
Pakistan
Industrial sector: