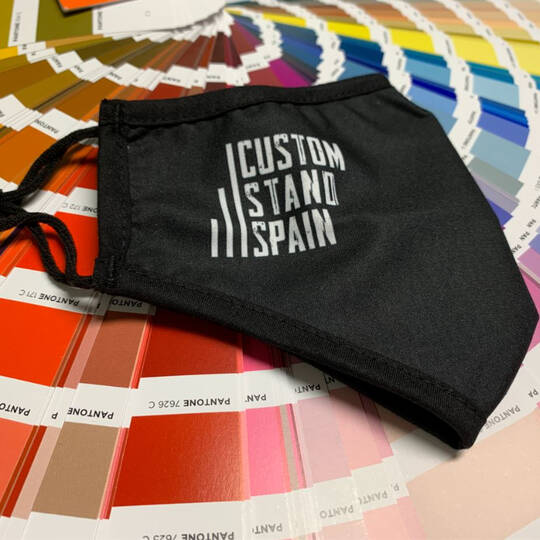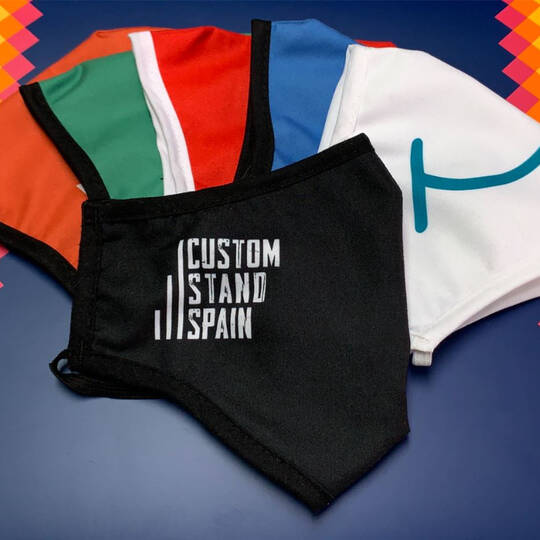 Product description
We provide custom printed  face masks that will help you to promote your Brand, protecting not only your employees and customers, but also The Environment, with all the guarantees of a product made 100% in Europe
Our 2- layer custom printed face masks, are re-usable, certified under European Regulations for 25 washes, maintaining the levels of breathability and protection.
Our custom printed face masks are a great value for money for many reasons:
Promote brand awareness
100% Europe Made
100% Customizable (not just a few colors to choose from, any color can be printed)
25 washes certified protection, complying European Regulations.
No filter needed
Environmentaly friendly (reduces waste of disposable face masks)
Our face masks are designed to be comfortably worn, and you can choose between 2 different adjustments, with elastic bands to the ears or surrounding your head.
We deliver custom face masks across Europe.
Customers and Employees will feel protected knowing that your masks are certified and not homemade masks.
Eliminate the medical feeling of surgical or medical masks and achieve a professional appearance by customizing certified face masks for your business.
If you need further information , or want a formal quotation, please do not hesitate to contact us, we will be glad to help you.
Even when we have the vaccine against Covid19, we must not yet give up on protect ourselves.
Hopefully, 2021 will be the year to finally beat Sars-Cov2, let's all of us do our best just a little longer!
These custom face masks are not a health product within the meaning of Directive 93/42 or Regulation UE/2017/745, nor an individual protection equipment (IPE) in the sense of regulation EU/2016/425.